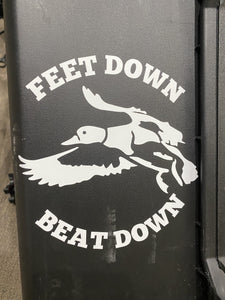 Looks great on Coolers, Walls, Laptops etc Approximate size 5" by 6"
Quality
Love the design. However, was hard to peel.
Looked great
Sticker looked great on my truck until my truck decided to catch fire unfortunately
Love the sticker
I love the sticker and all your products. FYI The sticker was pretty beat up when it arrived, a lot of creases in it etc. Packaging could be better.
Great products!
I ordered two hats and two stickers from Public Hunter and I'm very satisfied. The order came in on time and was packaged nicely. The product are as pictured and are made with quality materials and brands, I will order more from them in the future.